The Good, The Bad, and The Weird made its North American premiere in Toronto last night. Playing at the Roy Thompson Hall, a friend and I got our tickets and headed for the screening. Not a regular screening, but they call it an "Opening Night Gala" (I think), with some of the cast and crew present. Director Kim Ji-woon (whose only film I've seen was A Bittersweet Life), Lee Byung-hun (who was also in A Bittersweet Life, and plays "The Bad"), and Jung Woo-sung (which I've not seen any films he's in, plays "The Good"). So where the heck was "The Weird"? Yeah, busy filming his new film, Thirst, where he plays a vampire.
Jung Woo-sung and Lee Byung-hun on stage

It was mostly a Korean audience (the movie had English subs btw), and as expected, tons of screaming Korean girls when the "The Good" and "The Bad" appeared on stage. I just wanted to see the movie, but having the cast and director in the audience was nice too, lol.
Director, Kim Ji-woon addressing the audience
"The Bad" (Lee Byung-hun)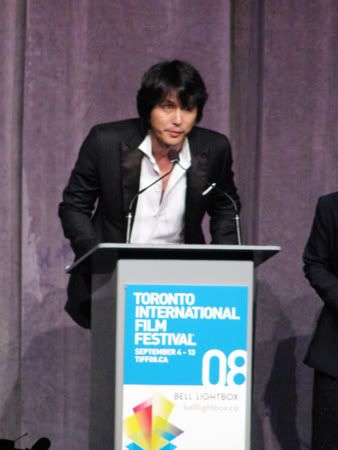 "The Good" (Jung Woo-sung)